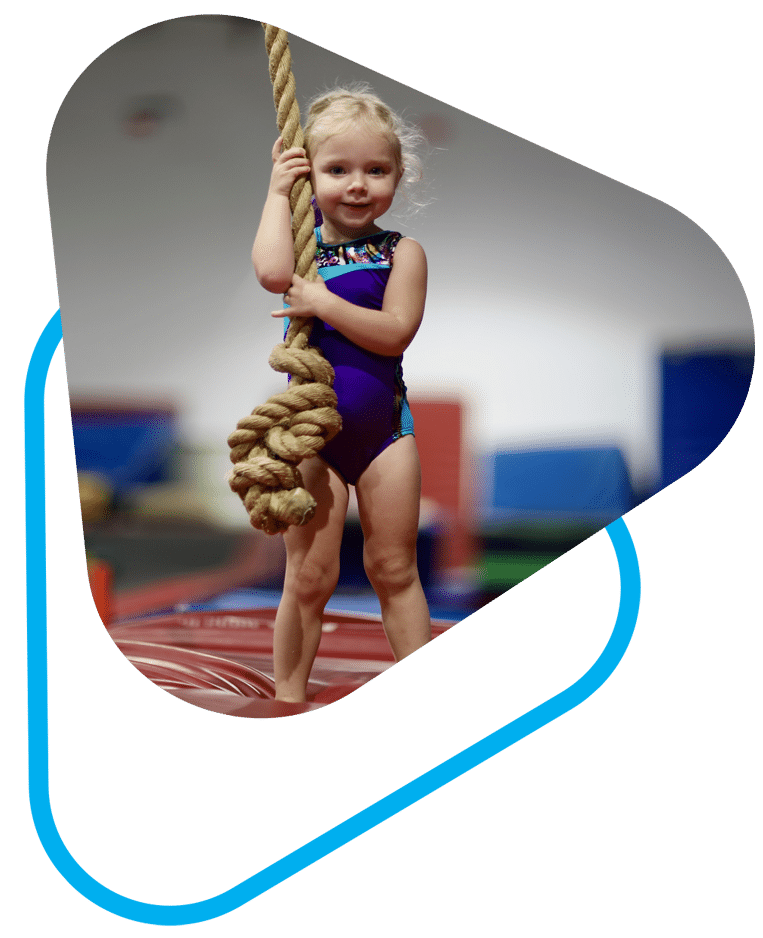 Children start learning movement and motor development in a controlled, fun environment.
Our Preschool classes are designed to specific ages rather than a one size fits all approach.
SUPERSTARS: 18 – 36 MONTHS
Children experiment in obstacle courses, beams, bars, tunnels, trampoline rebound surfaces, tumbling, musical activities, and other fun-inspiring stations. The social component of interacting with other children is invaluable.
40 min $82/month.
COMETS: BEGINNER PRESCHOOL
Circuits and obstacle courses include basic work on apparatuses such as balance beams, bars, vault, trampolines, and obstacles. Building this solid foundation is crucial to their progress and helps them develop coordination, agility, muscle strength, flexibility, balance, motor and social skills.
55 min $98/month.
NOVAS: INTERMEDIATE PRESCHOOL
Students build upon what they know and will work on more advanced and equipment-specific skills on our apparatuses within their circuits and obstacle courses.
55 min $98/month.
SUPER NOVAS: ADVANCED PRESCHOOL
Our most advanced preschool class is perfect for those pre-schoolers whose skills have outgrown their bodies. Super Novas helps fine tune skills and prepare students to progress towards our recreational or team programs. This class is by invite only.
55 min $98/month.
---

{{formatted_steps[current_step_number].step_label}}

{{loc.display_name}}
{{loc.street_address}}
{{loc.city}} {{loc.region}} {{loc.postal}}
{{loc.phone}}
{{category.cat_public_name}}
More Info
Select
Name
Location
Ages
Gender
Start Date
End Date
Start Time
End Time
Days
Tuition
Spaces
Instructor
REGISTER
Name:
{{cls.display_name}}
Location:
{{cls.location_display}}
Ages {{ cls.min_age }} - {{ cls.max_age }}
Start:
{{cls.start_date}}
Start Time:
{{cls.start_time}}
End Time:
{{cls.end_time}}
Days:
Su
Mo
Tu
We
Th
Fr
Sa
Spaces:
{{cls.openings.calculated_openings}}
Instructors:

{{instructor.public_name}}
Filter By Instructor:
{{instructor.public_name}}
Sunday
{{ongoing_class.status_map}}
{{ongoing_class.display_time}}
${{ongoing_class.tuition}}
{{ongoing_class.display_name}}
{{ongoing_class.duration}}
Openings: {{ongoing_class.openings.calculated_openings}}
Tuition: ${{ongoing_class.tuition}}
{{instructor.public_name}}
Monday
{{ongoing_class.status_map}}
{{ongoing_class.display_time}}
${{ongoing_class.tuition}}
{{ongoing_class.display_name}}
{{ongoing_class.duration}}
Openings: {{ongoing_class.openings.calculated_openings}}
Tuition: ${{ongoing_class.tuition}}
{{instructor.public_name}}
Tuesday
{{ongoing_class.status_map}}
{{ongoing_class.display_time}}
${{ongoing_class.tuition}}
{{ongoing_class.display_name}}
{{ongoing_class.duration}}
Openings: {{ongoing_class.openings.calculated_openings}}
Tuition: ${{ongoing_class.tuition}}
{{instructor.public_name}}
Wednesday
{{ongoing_class.status_map}}
{{ongoing_class.display_time}}
${{ongoing_class.tuition}}
{{ongoing_class.display_name}}
{{ongoing_class.duration}}
Openings: {{ongoing_class.openings.calculated_openings}}
Tuition: ${{ongoing_class.tuition}}
{{instructor.public_name}}
Thursday
{{ongoing_class.status_map}}
{{ongoing_class.display_time}}
${{ongoing_class.tuition}}
{{ongoing_class.display_name}}
{{ongoing_class.duration}}
Openings: {{ongoing_class.openings.calculated_openings}}
Tuition: ${{ongoing_class.tuition}}
{{instructor.public_name}}
Friday
{{ongoing_class.status_map}}
{{ongoing_class.display_time}}
${{ongoing_class.tuition}}
{{ongoing_class.display_name}}
{{ongoing_class.duration}}
Openings: {{ongoing_class.openings.calculated_openings}}
Tuition: ${{ongoing_class.tuition}}
{{instructor.public_name}}
Saturday
{{ongoing_class.status_map}}
{{ongoing_class.display_time}}
${{ongoing_class.tuition}}
{{ongoing_class.display_name}}
{{ongoing_class.duration}}
Openings: {{ongoing_class.openings.calculated_openings}}
Tuition: ${{ongoing_class.tuition}}
{{instructor.public_name}}